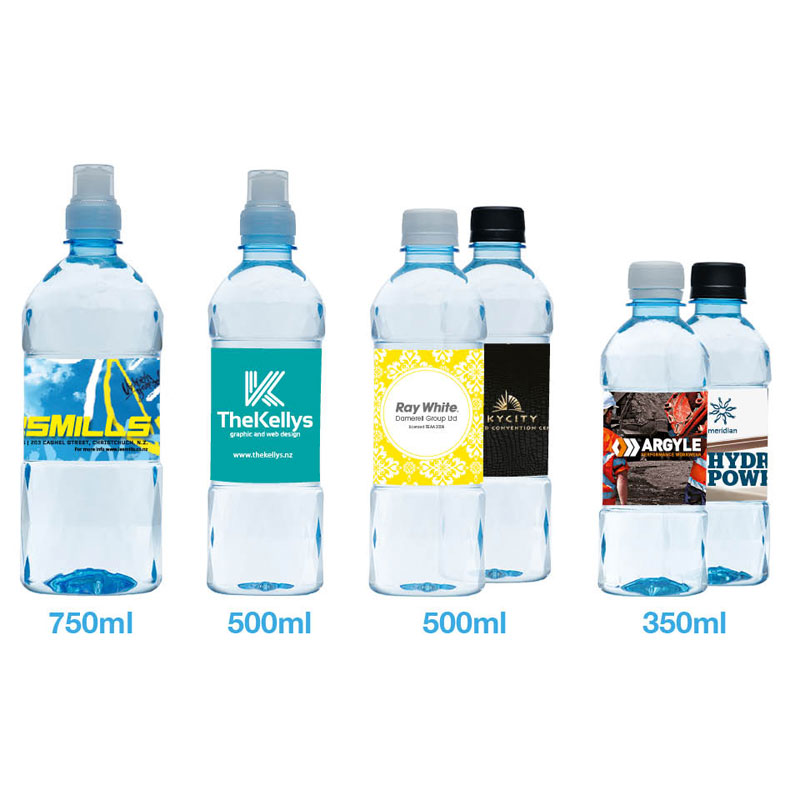 Filled with fresh, spring water from the world famous Blue Springs in New Zealand, in addition to a Full-colour, white background label, these Customised Spring Water Bottles are perfect for any occasion.
Branded bottles are perfect as:
Give aways specifically for people who visit your trade stand or exhibit.
Non-alcoholic option during your next event.
Gifts to your cliental.
Fund-raising option for your organisation or club.
Bottle Sizes:
350ml, 500ml and 750ml
Options:
Sports sipper caps: Comes standard with 750ml size.
Clear labels: For that transparent look.
Cut-out labels: A great way to get your label to stand out.
Foiling / Metallics and other effects.
Individualisation of each label.
Alternate cap colours: Black and white are standard for flat caps, are also available in Blue, Red & Dark Green.
Label Sizes:
350ml – 60mm x 140mm
500ml – 75mm x 140mm
750ml – 55mm x 170mm
Facts:
42% of people will keep and refill your Customised Spring Water Bottle.
An average of 36 hours a customer spends with your branded bottle.
At least 5 additional people are exposed to your brand when a clients use your bottle.
Contact the team if you would like more information regarding Customised Spring Water Bottles.